Building Architecture – 17 Examples of Modern Wooden Buildings
The beautiful thing about modern architecture is that it's constantly changing and evolving as time moves forward, making it a very exciting concept. Several years ago modern architecture consisted of mostly glass and steel, however, what was modern then simply isn't now. Today we are living in a time that is primarily marked by the resurgence of wood in architecture. The desire to harness the beauty of the natural world around us has never been higher and as a result we've seen the use of wood as an exterior element on a steady rise.
Advances in wood materials and design techniques have renewed interest in wood exteriors for private, public, and commercial buildings alike. Today's modern wooden buildings and structures are exceptionally well-designed for both looks and structural integrity. Materials like modified wood have helped architects gain freedom and creativity in how they can utilize real wood in their designs.
Modified wood is an eco-friendly real wood product that enhances and improves upon the natural advantages of sustainable wood species. By incorporating modified wood into your designs, you can easily add warmth and beauty to a wealth of applications without concern of durability or costly maintenance expenses.
Here are 17 modern wooden buildings and structures to help inspire your next modern architectural build.
1. Modern Retirement Home with Welcoming Wood Buildings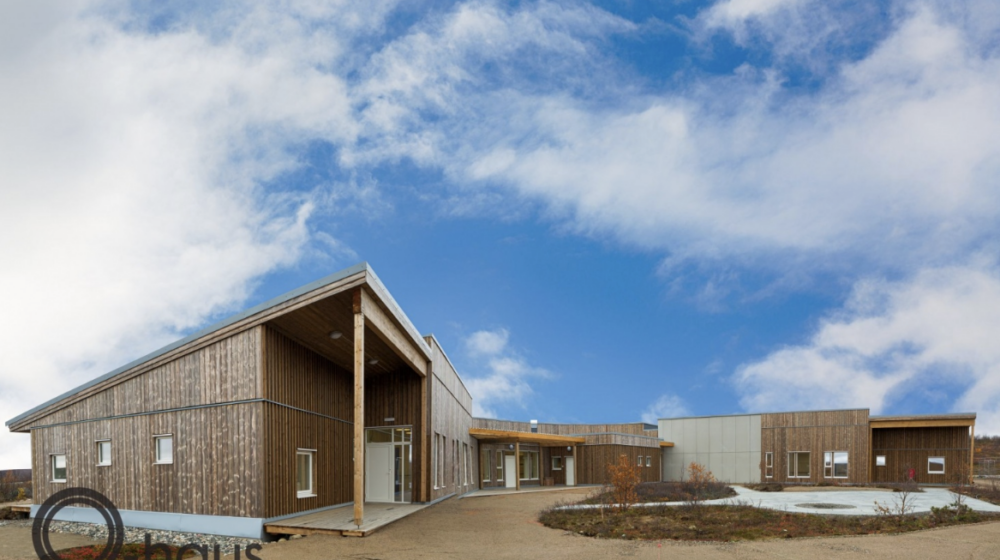 (Retirement Home in the Arctic Circle, by Q-haus, photo by Maris Tomba)
Materials like cement, metal, and glass still align with modern design but they can often make a building appear cold and institutional. Wood offers something very different and is ideal for new construction of buildings that should feel warm and welcoming, just like this featured retirement facility.
2. Vertical Wood Plank Siding Perfectly Pairs with Flat Roofs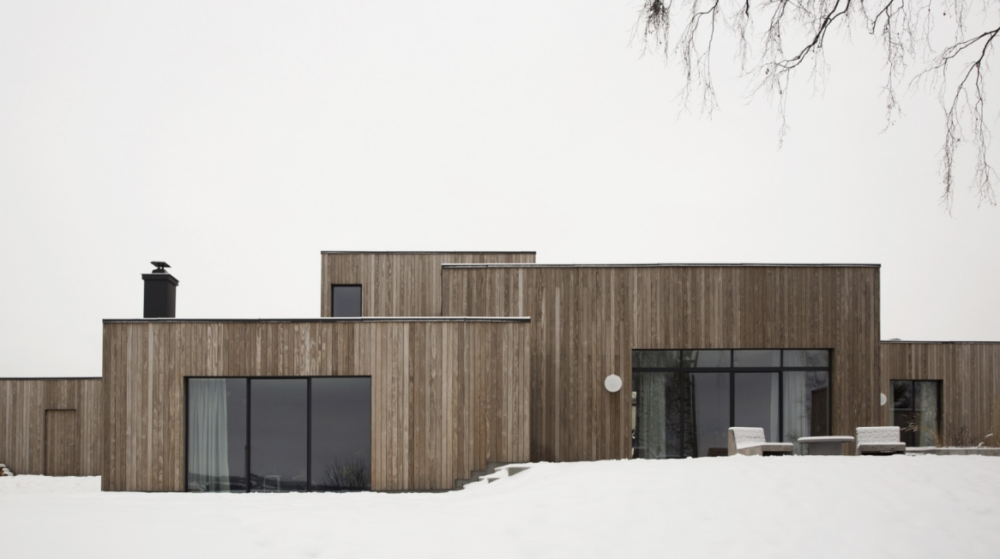 (The Gjøvik House, by Norm Architects, photo by Jonas Bjerre-Poulsen)Dashboard
A common theme in modern and contemporary design is to add visual height and grandeur. Vertically-placed wood planks are a great choice for siding when you want your building to appear taller. Flat roofs are very stylish and work perfectly with vertical siding; plus they provide a great usable space to take advantage of the view from above. Simple and minimalistic window and door frames keep with the sleek style and complete this modern look.
3. Revamped Approach to Old-Fashioned Building Design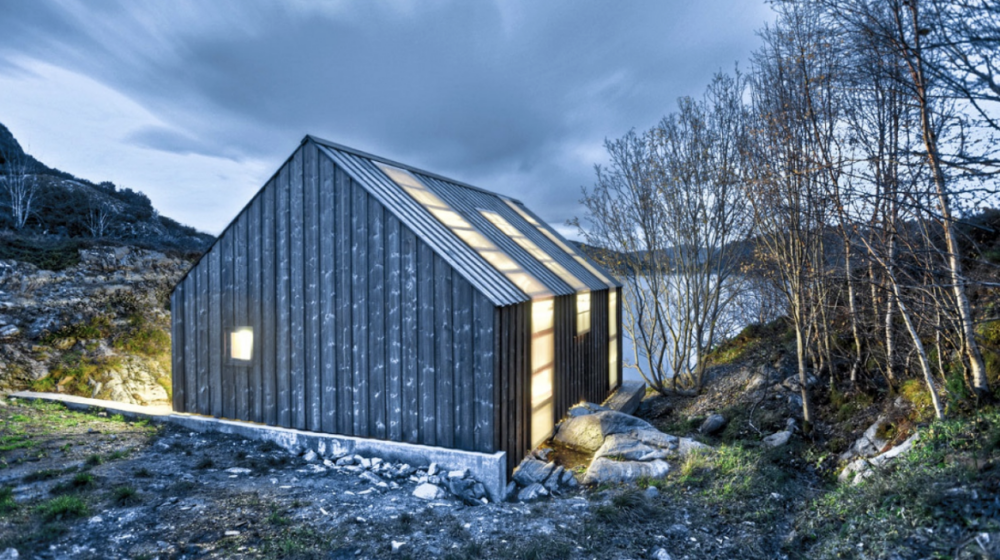 (Naust på Aure, by TYIN Tegnestue, photo by Pasi Aalto)
This Norwegian boathouse is a unique example of how traditional wood building designs can be upgraded with modern touches. This structure is fully clad in wood, including the roof, which is made possible with the use of modified wood. Built into the roof are subdued skylights which run down onto the walls as windows, bringing this design into a very modern, yet charming, scape.
4. Smooth Wood Siding with Recessed Windows and Angular Roof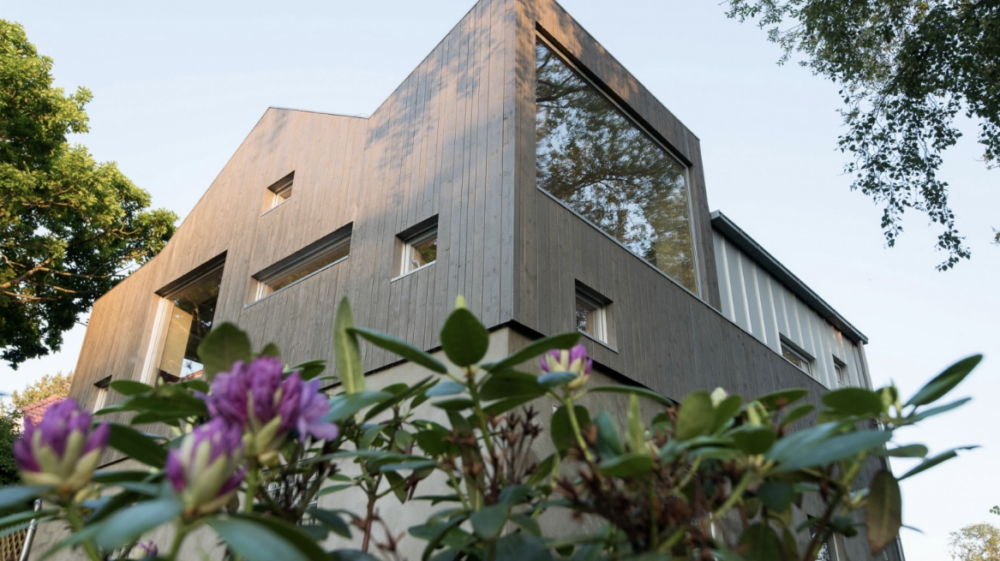 (Garage transformed into modernist library, by NOMA Arkitekter, photo by Jean Lorentzen)
Building additions or renovating a structure is an opportunity to use wood, which blends in perfectly with every other type of existing siding. This renovated home is every bit as classic as it is modern. The recessed windows and angular roofline help to set this design apart from others.
5. A Pair of Award Winning Silvered Beach Houses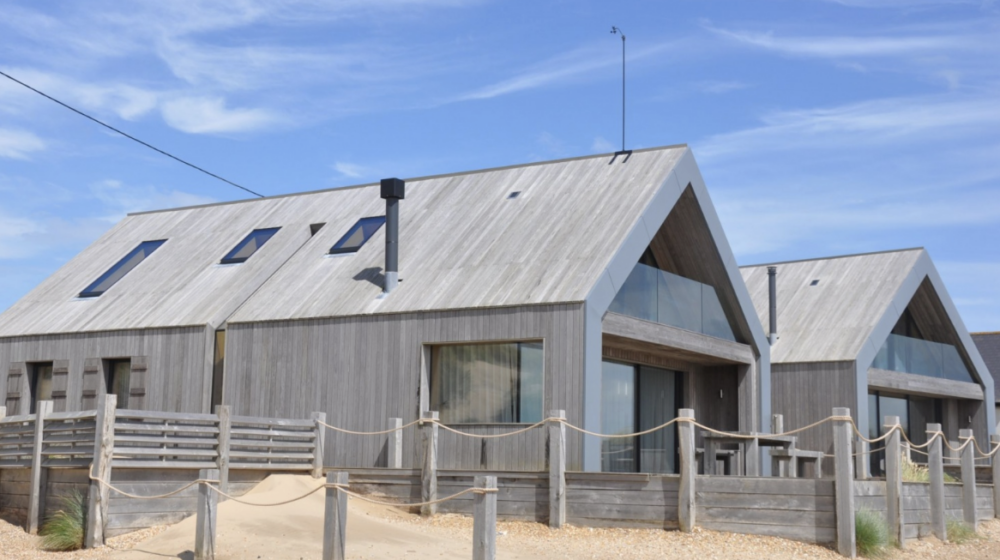 (Award-winning beach homes, by WAM Design, photo by Urban Front)
Located at Camber Sands beach is this pair of contemporary beach homes. These houses are built with stainless steel framing and clad in Kebony Clear modified wood. Kebony Clear has a very smooth appearance, with minimal grain and knots, that ages to a silvery shade over time, achieving a more fluid modernity.
6. Diagonal Siding Catches the Eye and Gives Good Movement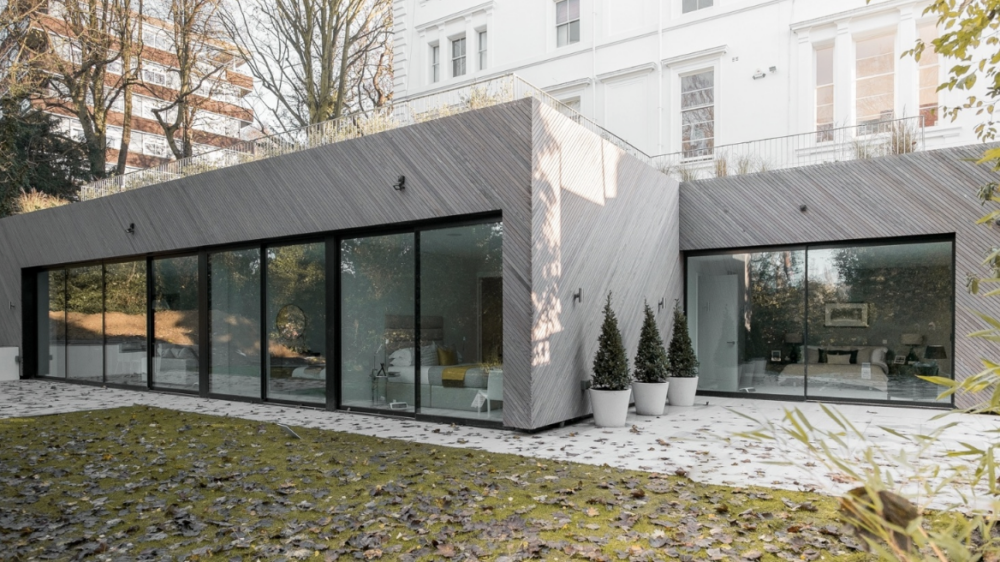 (Oak Hill House, by Claridge Architects, photo by Seb Scapolan)
Not only is this home another beautiful example of how Kebony modified wood ages to a silvery-gray patina, but it also showcases how well diagonal siding can work. The architect of this building used thin wood boards to give a simple space texture and visual interest. Wood siding looks particularly beautiful for diagonal placement and isn't hard to do from an installer's perspective.
7. A Sustainable School Built with Durability in Mind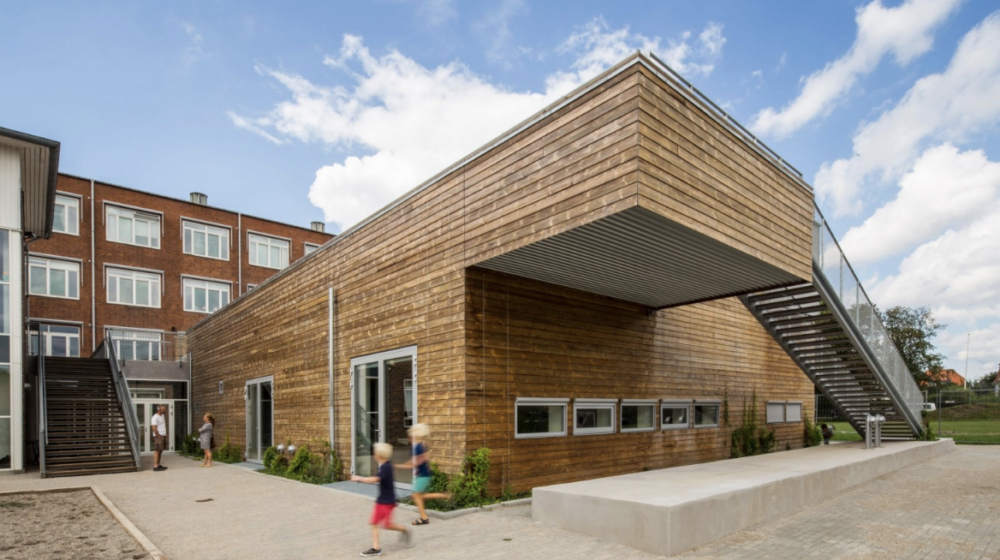 (Modern & Sustainable School, by Arkitema Architects, photo by Niels Nygaard)
Sustainable building design is growing in popularity and meshes with modern architecture for that reason. Modified wood is one of the lowest maintenance materials on the market, making it ideal for school buildings because it requires little care to keep it looking beautiful. Plus it serves as a teaching tool of how innovation can lead to environmentally responsible resources.
8. Pairing Warm Wood Siding with Cool Stainless Steel Windows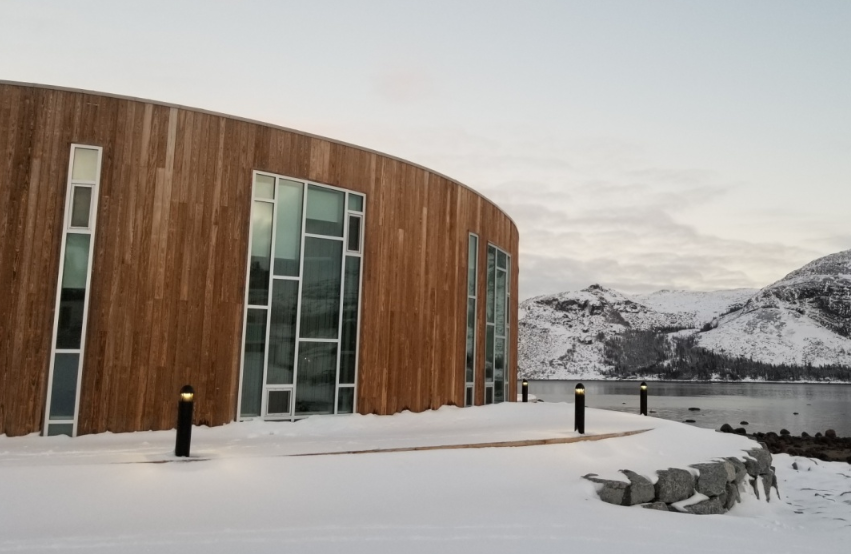 (Illusuak Cultural Centre, by Saunders Architecture, photo by BIRD Construction Inc.)
Cladding a round building is easily accomplished with wood plank siding placed vertically. Not only does this alleviate the issue of wrapping round surfaces, but it also gives the building a great sense of height. Stainless steel, geometric window frames add a simple yet striking visual element. Overall the playfulness of both cool (steel) and warm (wood) building materials looks stunning when set in the midst of such a wintery landscape.
9. Why Choose One When You Can Do Both?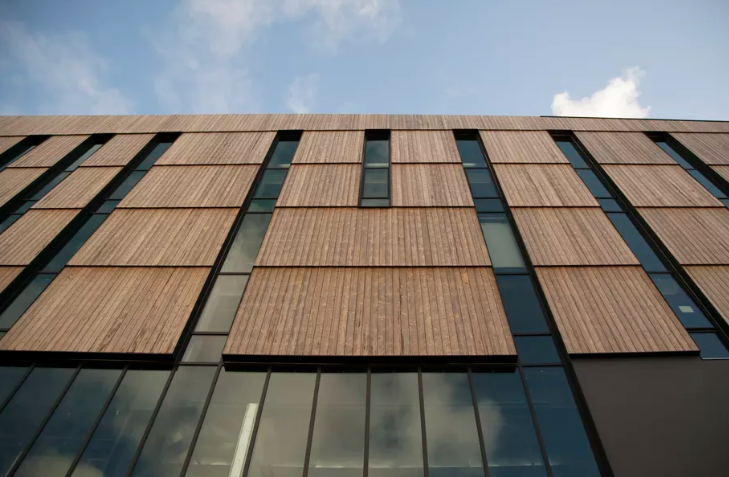 (The Burke Museum, by Olson Kundig, photo by The Burke Museum)
Glass walls are a staple of modern architecture, but on their own they can be a bit underwhelming. The Burke Museum, in Seattle, WA, is a wonderful example of how mixing elements, like glass and wood, can come together in a new and very dynamic way.
10. Mix It Up with Wood Siding Placement on Custom Builds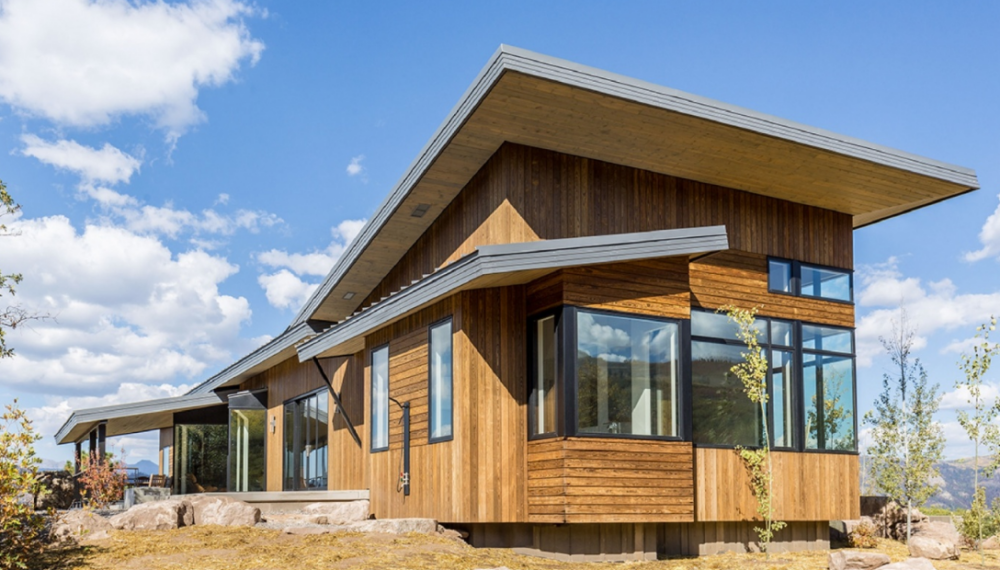 (Edmonds House, by Jim Rothwell, photo by Marona Photography)
This custom home is fully clad in Kebony modified wood, but also shows how you can incorporate both vertical and horizontal placement to create better dimension. The vertical siding covers most of the home while the horizontal siding functions as an accent around the windows. You can adopt this same idea in the design of commercial and public buildings as well.
11. Office Building Combines Beauty and Function with Rainscreen Cladding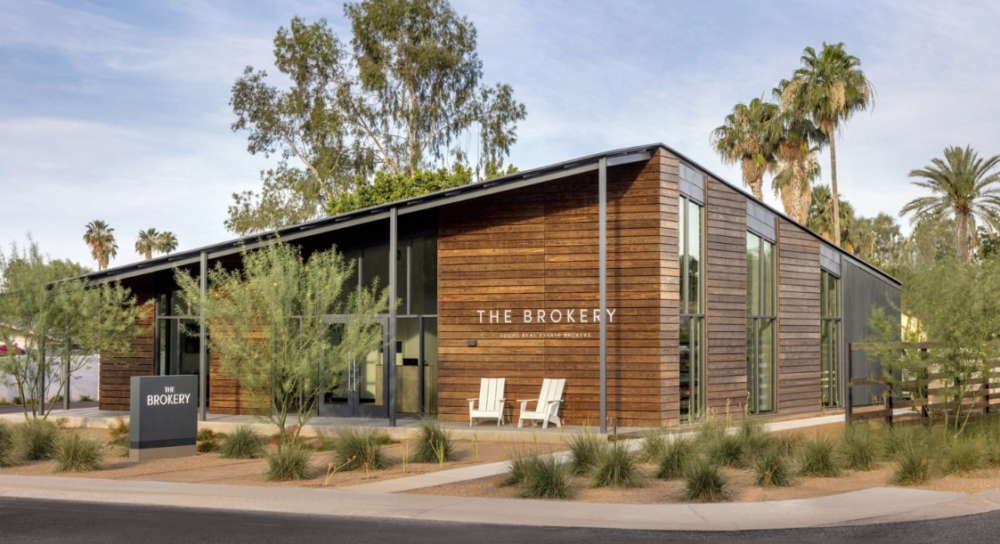 (The Brokery, by Studio Ma, photo by Bill Timmerman)
The innovative design of this office building is stunning with its asymmetrical roof line and richness of the wood cladding used. What might be harder to see from the surface is that the Kebony cladding here isn't just pretty, but uniquely functional too. Installing Kebony as a rainscreen with the Passive Rainscreen System is a great way to improve airflow in order to protect your structure from moisture damage as well as boost your thermal efficiency.
12. Shou Sugi Ban Wood Cladding for Bold Contrast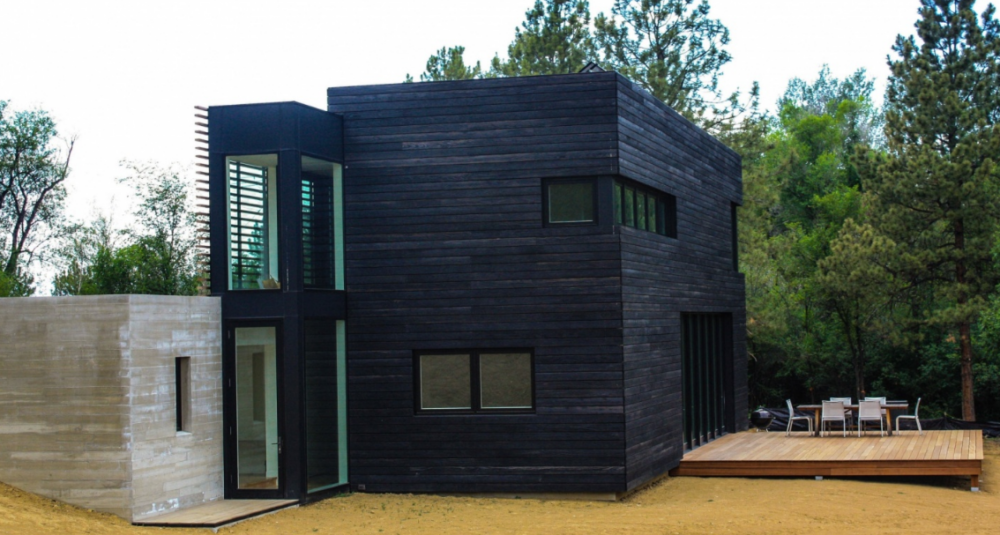 (Colorado Guest House, by Character Builders Colorado & Delta Millworks, photo by Patrick Fleming)
Shou Sugi Ban is a traditional Japanese surface treatment technique that chars the top surface of the wood. This process was originally done not only for its visual appeal but for making standard wood more durable and moisture-resistant. Using Shou Sugi Ban modified wood offers even greater protection. Modern color palettes often include dark colors so a deep charcoal gray or near black fits in perfectly.
13. A Charming School with a Playful Approach to Modern Architecture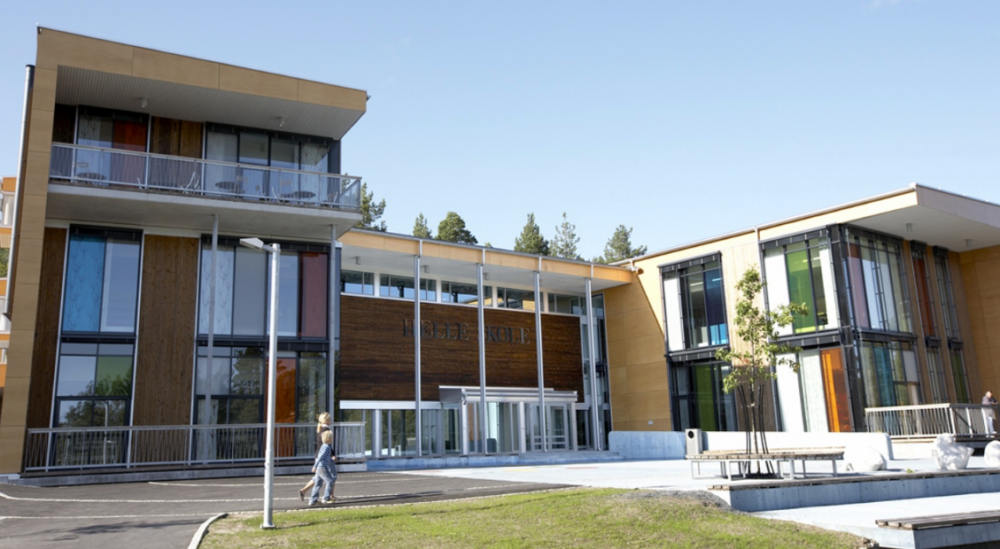 (Helle School, by Børve & Borchsenius)
Modern architecture doesn't always need to be stark or plain when it comes to color. The Helle School shows how including different building materials can make modern buildings look more lively. The facade of this building successfully combines wood cladding, steel and glass; with some glass panels providing an unexpected splash of color.
14. A Wood Restaurant with a Surprising Feature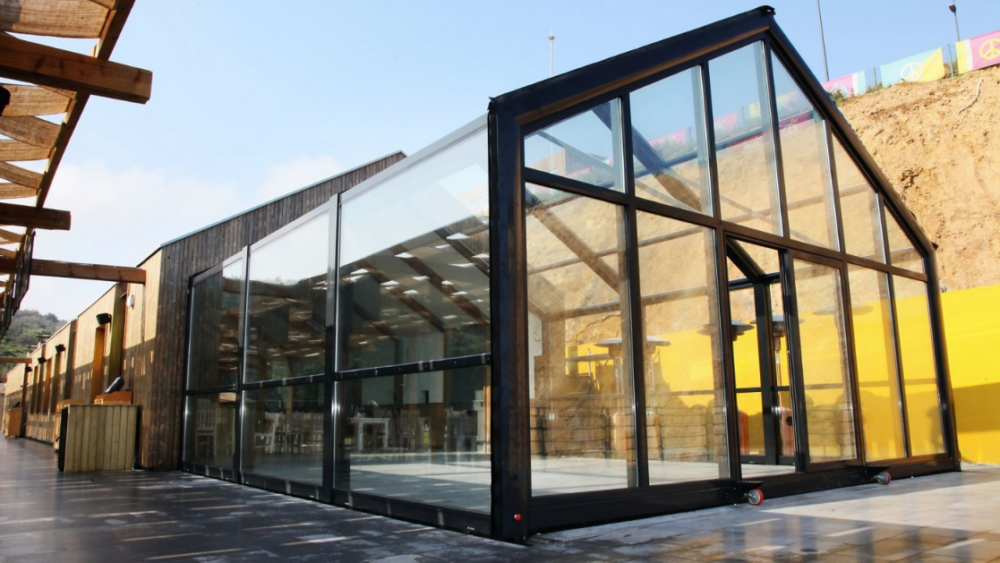 (Babylon Beach Club's Extendable Restaurant, by Selin Maner, photo by Julien Aksoy)
This restaurant at the Babylon Beach Club is a modern structure clad in wood siding with one very surprising feature. One end of the restaurant, made of glass and steel, can be extended outward to expand the indoor entertainment and seating area when needed. That's what makes modern architecture such a marvel, it's more than just the look of a building, it's the art of maximizing function in new and innovative ways.
15. A Complete Overhaul Gives an Old Building a New Feel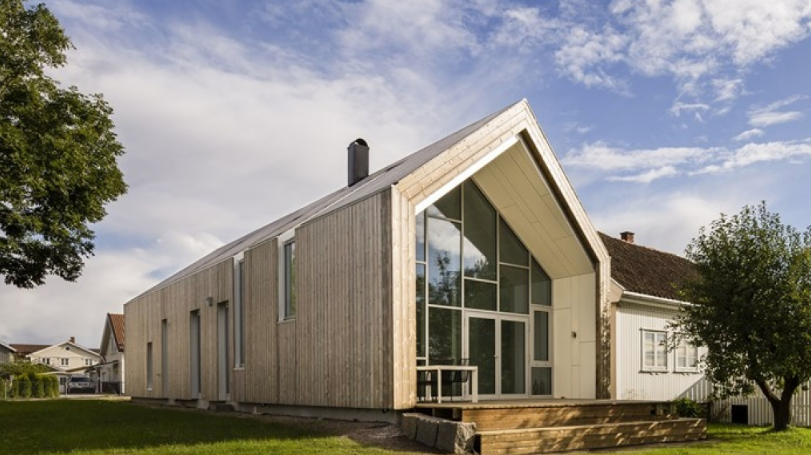 (Farmhouse 2.0, by LINK Arkitektur, photo by Hundven-Clements Photography)
Farmhouse architecture has been a popular home design for many decades, but for some, it may be deemed too rustic for their tastes. The Farmhouse 2.0 is an incredible example of how modern design can transform dated buildings into something completely new. Vertical wood cladding along the walls and roof keep the lines clean and simple, while the recessed windows and entryway provide a rather luxurious feel.
16. Expanding Appearance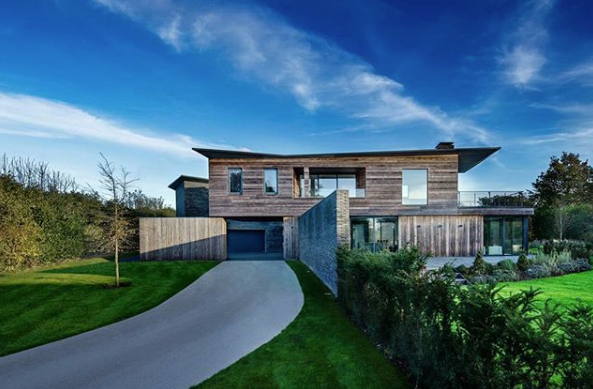 (The Elements House, by AR Design Studio, photo by Martin Gardner)
It's commonly known that cladding run horizontally can lengthen the appearance of a building and likewise running boards vertically can heighten it. But can both be done to maximize a home's grandeur without looking too busy? This house proves that you can and in incredible fashion too. The use of modified wood siding, which in this picture is in the process of weathering to a graceful patina, provides a neutral base that helps bring simplicity to what otherwise could have been a bit chaotic.
17. A Jaw Dropping Multi-Story Apartment Complex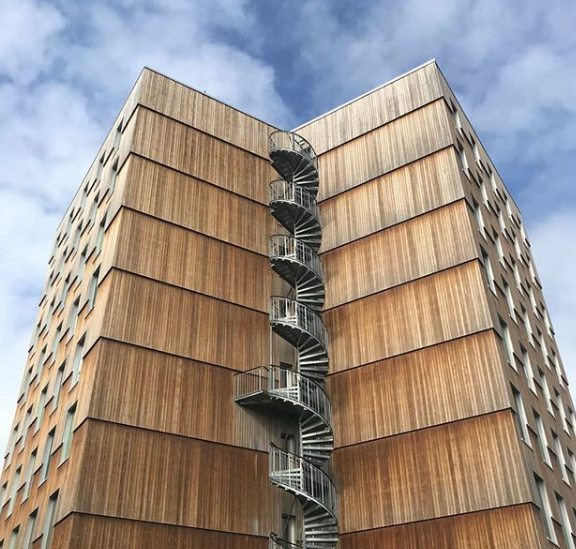 (Moholt 50|50 , by MDH Arkitekter)
Wood as a primary building material for expansive multi-story buildings has been making a big impact on the design world. Take the Moholt 50|50 for instance, a student housing complex that is covered in stunning Kebony modified wood cladding. The spiral staircase is an unexpected touch, but one that adds a very interesting dynamic along with the staggered window placement.
The use of high-performance materials, like modified wood, helps architects achieve beautiful modern results without compromising environmental responsibility. Learn all of the ways modified wood can be used to enhance modern designs by contacting Kebony.