Vision
"When Orlin and Brett came to the table, I felt like we were now at school. We had a professor teaching us, and it was only through their teaching and a deeper understanding of how distilleries work…that we were able to do [this project] successfully."
-Jim Graham, Graham Baba Architects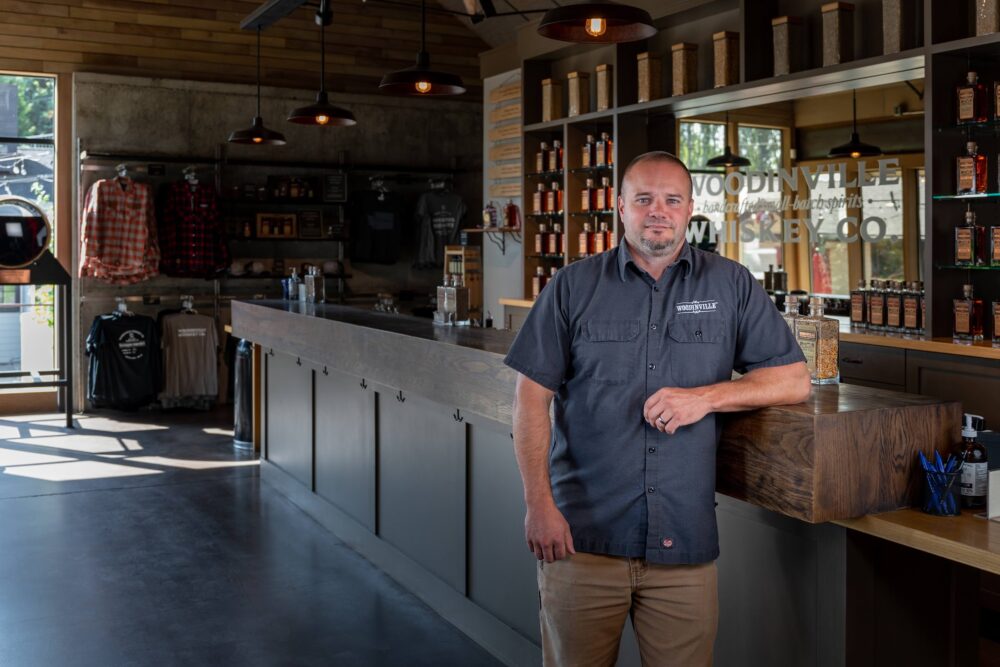 Woodinville Whiskey Co. co-founders Brett Carlile and Orlin Sorensen began their journey to create high-quality bourbon in Washington state in 2009. They knew they were taking a risk bringing their business plan to a bank for a small-business loan when producing whiskey wouldn't yield a profit for several years. A local bank that had previously worked with wineries in the area had faith in Brett and Orlin's plan and saw Woodinville Whiskey Co.'s potential. They could now carry out their vision of making an even better whiskey than what was being made in Kentucky.
The Whiskey
"A lot of the things we do are different than the normal, and I think we have a different philosophy. We've always, since day 1, said we'd never put anything in a barrel or bottle that we didn't make ourselves. We've never sourced whiskey from someone else, which is something to be proud of."
– Brett Carlile, Woodinville Whiskey Co. Co-Founder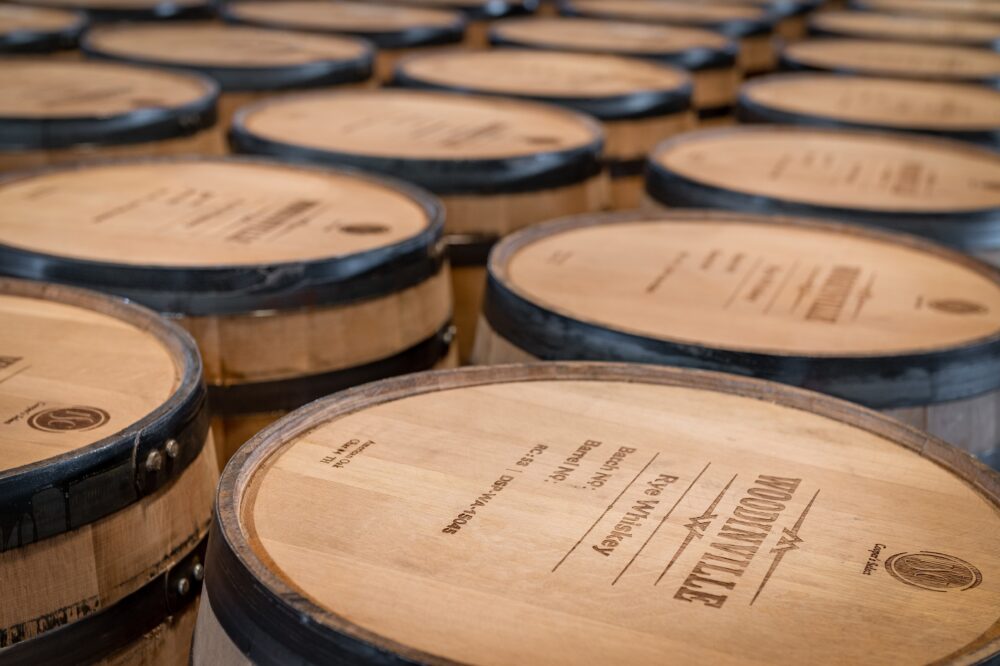 Once they had acquired a loan, Brett and Orlin needed to learn to make whiskey. Before the craft movement, bourbon had been somewhat of a "guarded secret", with the same 6 or 7 distilleries making it for the last hundred years. They knew they needed someone who had a deep knowledge of the industry to help them learn to craft their own whiskey, which led to their calling on Dave Pickerell.
Dave was a master distiller at Maker's Mark for over 14 years, and had recently retired and started consulting. Brett and Orlin convinced him to fly to Washington from Kentucky to teach them the proper way to make bourbon. Brett and Orlin were the ideal students for Dave, because they had no background in making whiskey. He was able to teach them the bourbon-making process without any external factors or learned habits influencing it. They received a crash course in chemistry and learned to adjust their mash bills to create their own signature flavor profiles.
The Distillery and Tasting Room
"We wanted it to look like this building had been here for 100 years, even though it was built brand new in 2014."
– Brett Carlile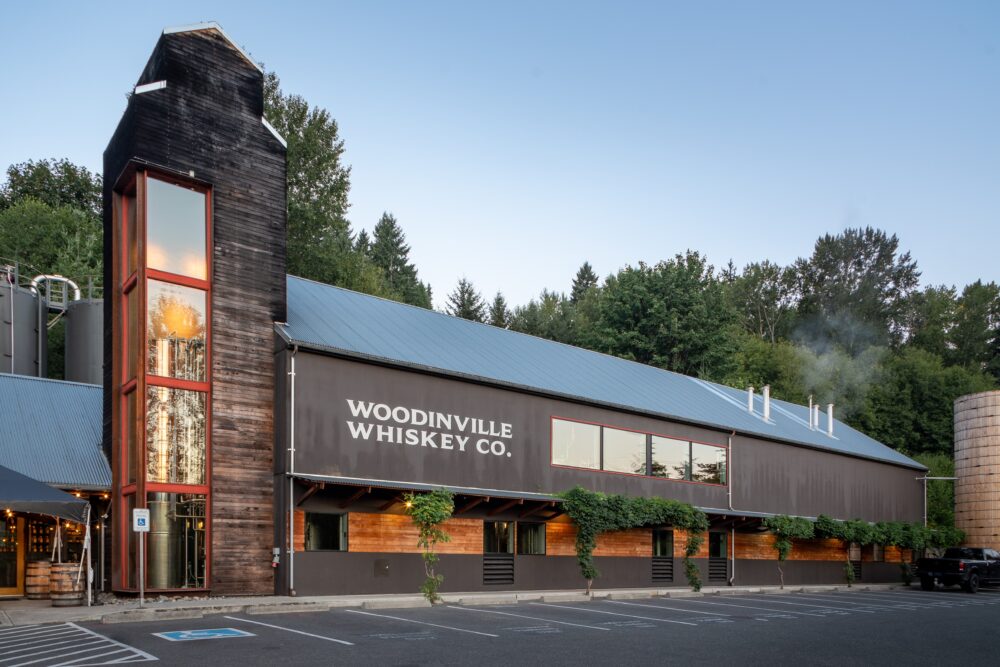 Woodinville Whiskey Co. started in a smaller location, and Brett and Orlin were able to make about one barrel of whiskey per day in that space. As they began to make more whiskey and continued to increase their fermentation capacity, they found they were running out of space. With their bourbon recipe perfected and the loan they needed acquired, they knew it was time to expand.
Brett and Orlin had a clear vision for their new distillery and tasting room, and they enlisted Graham Baba Architects to bring that vision to life. They sent the architects a book on Kentucky distilleries to spark inspiration, knowing they wanted to incorporate some of the history of bourbon into their design choices. The ultimate goal was for the architecture to celebrate the distilling process for both people who worked there and those visiting the tasting room to experience.
"The architecture that they wanted needed to be simple and straightforward, which is sort of a reflection of their brand."
– Susan Tillack, Graham Baba Architects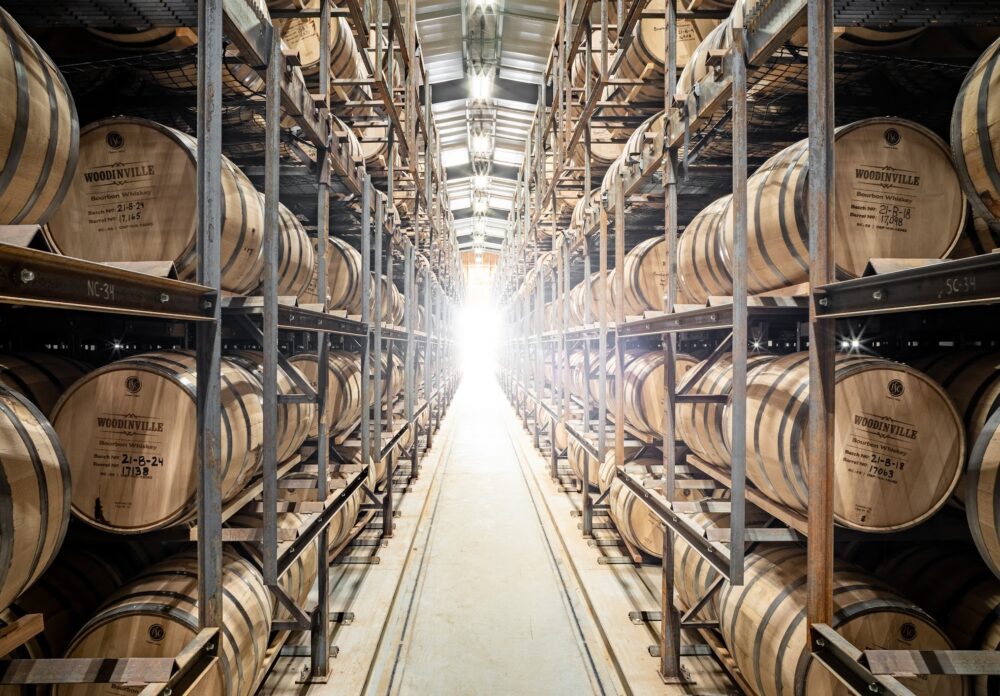 The greatest challenge faced by the architects when designing the new distillery and tasting room was fitting all the vessels needed into the space. The new location allowed Woodinville Whiskey Co. to increase their production by six times, which required equipment triple the size of what they were previously using. In the end, the simple and industrial design of the distillery truly reflected Woodinville Whiskey Co.'s brand, so much so that you can now find images of the distillery printed on their bottle labels.
The Warehouses
"We wanted these buildings to be appealing as you drive by and appealing to people coming to do the tours as well, so we trusted Graham Baba to pick the right fits and finishes to make those buildings look aesthetically pleasing to the eye and stand the test of time."
-Brett Carlile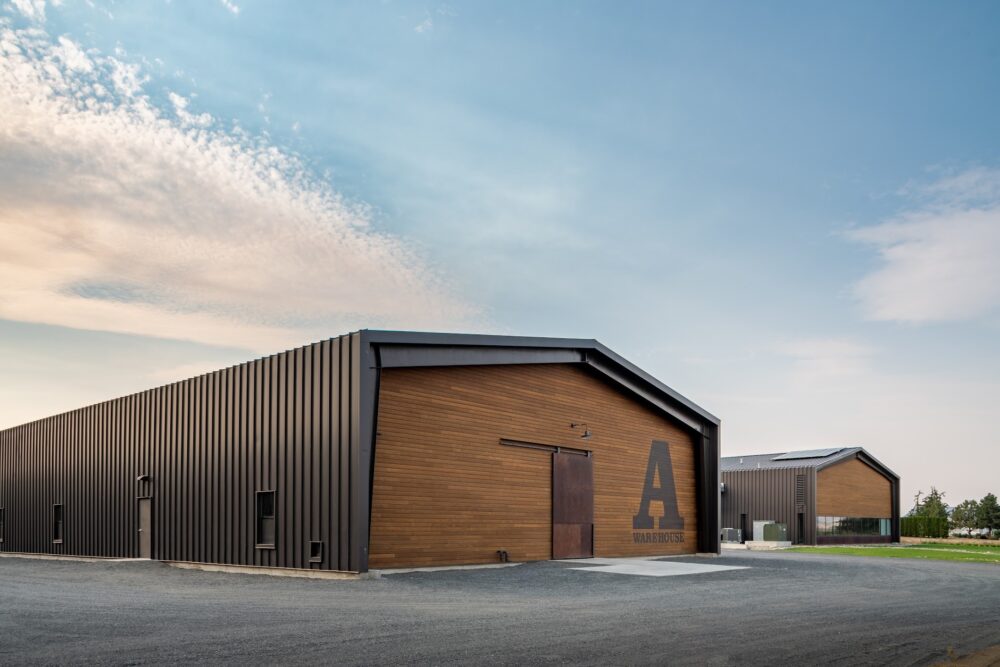 Brett and Orlin's next task was to find the perfect place to age their whiskey, and they found it in an unexpected place. They had been buying grain from small farmer Arnie Omlin in Quincy, WA, which is 166 miles away from the distillery and tasting room in Woodinville. Arnie noticed their lack of barrel-aging space and offered to build them a warehouse on his property. Brett and Orlin researched the temperatures in Quincy extensively, comparing them to the highs and lows of Bardstown, KY throughout the year. They found that the typical temperatures were almost identical from month to month, with the only difference being that Bardstown is humid, and Quincy is dry. They decided to go forward with one warehouse on Arlin's property.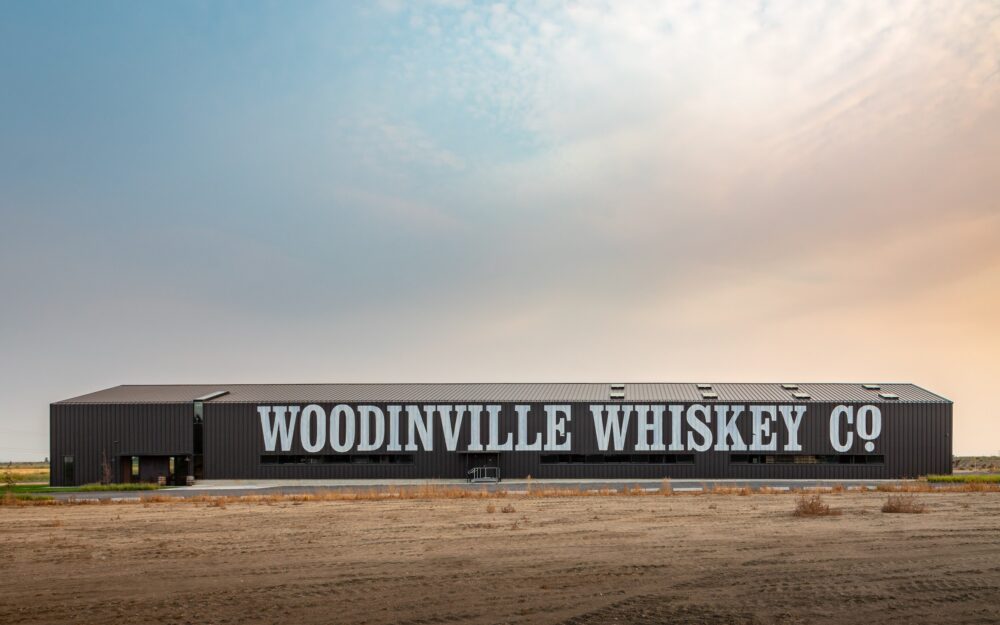 The Quincy facility turned out to be the perfect location for Woodinville Whiskey Co.'s barrel aging, and the first warehouse was quickly filled to capacity. This prompted the building of a second warehouse. Graham Baba was called in once again to help design the Quincy warehouses. Even though they were working with prefabricated metal buildings, Brett and Orlin wanted the warehouses to be aesthetically pleasing for visitors taking tours, as well as for passersby. In addition, they knew these facilities needed to stand the test of time. For this reason, Kebony rainscreen cladding was selected to accent the buildings. The shape of the buildings was purposeful as well, including a shallow pitch to control the way the air in the building interacts with the barrels. The Woodinville Whiskey Co. brand is reflected in the distillery and warehouses, and the cohesiveness is powerful.
Looking Ahead
"Watching them grow and really become masters at their craft has been fantastically fulfilling."
– Jim Graham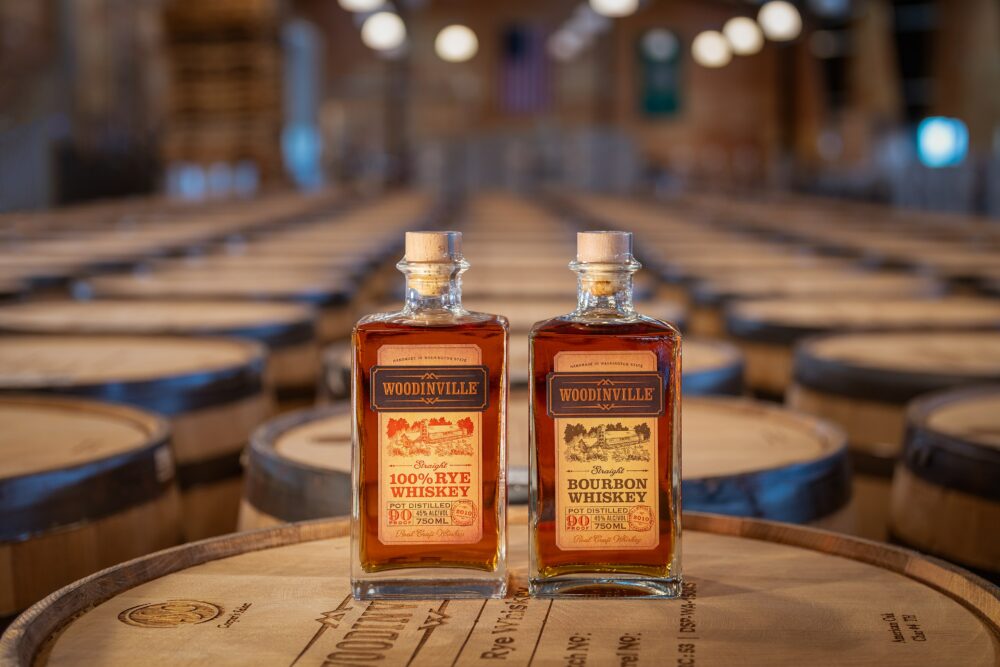 There are currently three Woodinville Whiskey Co. warehouses on the Quincy property, and there will be a total of five when they are all complete. The barrels are filled at the Woodinville distillery, and then are transported to Quincy where they age for five years. Having five warehouses will allow for one warehouse per year to be emptied and refilled.
Brett and Orlin decided not to move the distillery to Quincy because they didn't want to risk their product changing. Each step in the production process is very controlled each day, and they are accustomed to working with the variables in the Woodinville area. In addition, there is access to a wonderful water source nearby. The Woodinville distillery will continue to be the location where the whiskey is crafted, with barreling and bottling being the focus of the Quincy warehouses.
Dave Pickerell told Brett and Orlin at the very beginning to "win their backyard", and they have done exactly that. Their focus was on becoming the hometown favorite, and they were only serving the state of Washington until 2018. When they increased their volume enough, they expanded to northern California. The reaction was overwhelmingly positive in this competitive market, and the awards Woodinville Whiskey Co. has won for their products prove they have become masters of their craft. Woodinville Whiskey Co. has always done things in a different way, and their creativity and craft will continue to set them apart as they continue to grow.